Are Blinds Made For Arched Windows?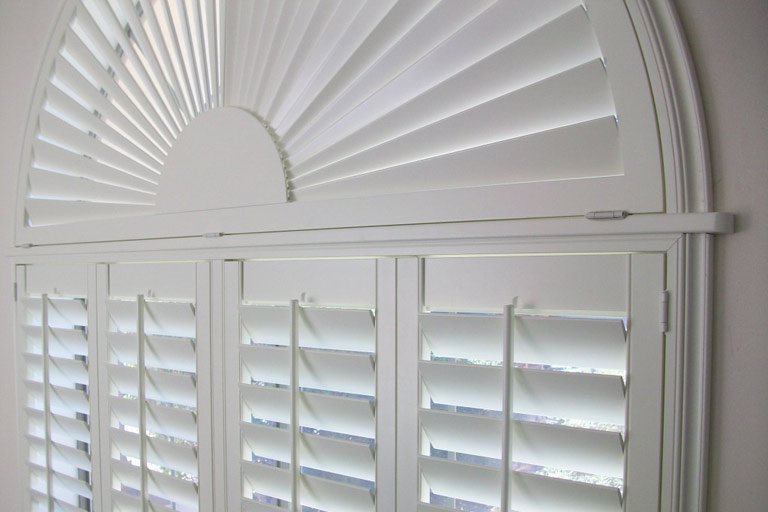 When choosing blinds for your home, the first thing you might ask is, 'are blinds made for arched windows?' Arched windows are a design detail that makes your home look unique and speaks to your overall style. They are, however, the hardest and most costly to cover, especially if you want your blinds to be functional.
The window covering industry has improved the design and manufacturing process of arch window shades to reduce prices and improve functionality. The first step is deciding how you want and/or need your blinds to function. Knowing that before you buy arch window blinds, will help immensely as you carefully consider how they fit into your general aesthetic.
Shutters And Venetians
Custom-made slatted blinds such as Venetians and shutters can be made to tilt while sitting inside the window arch so they can expose the window. Since arch windows do not come in standard sizes, customizing blinds and shutters can certainly stretch the budget.
Instead of folding back and swinging away from the windows like rectangular shutters do, Arch blinds are normally designed to stay within the window frame. You can motorize arch blinds, but not every manufacturer offers this feature.
Before you purchase them, consider how they open and close. The amount of light you do or don't want in the room might make this a crucial part of your decision.
Roman Shades
It is possible to DIY fabric Roman Shades to sit inside your window frame at the beginning of the arch. A custom-made header can be used to cover the upper part of the arch. Cords control the movement of this type of window arch shade. Consider the length of your chords for room safety.
Manufacturers for arch shades and blinds can custom-make Roman fabric shades if you need them motorized for lowering and raising. Once you have such blinds, you do not need cords.
Cellular Shades
You can use an extension pole to operate cellular shades that work in a track system. These specialized arch shades open as a one-way draw stacking on one side or as a center-split window covering. The perimeter of the arch has a track installed around it that allows the shade to move around.
These shades for arch windows can expose the entire window while fully open or cover it completely when closed. In some cases, operation of the shade can also be motorized.
Removable Shades
It is possible to get temporary shades for your arches that match your home. They provide full coverage and operate similar to a fan when they're open. These arch window shades are used by window covering professionals as a stop-gap solution.
Home decor stores offer a commercial version of these shades. They are made of wallpaper and reinforced with a strengthening varnish. You can install these arch shades as part of a DIY project.
Bottom Line
When it comes down to it, even though there are many options for your arched windows, the best thing you can do for your home is to cover them with custom-made shutters, blinds, or shades. This ensures you have the right fit and the right style to match your decor. The experts at Direct Buy Blinds & Shutters can assist you with everything you need.
Some blogs are written by authorized members of our marketing team for marketing purposes only. Some content may not correctly depict product specifications and may vary depending on the product. For more information, please call our sales office.