Do You Need Window Treatments In The Kitchen? Ask 5 Questions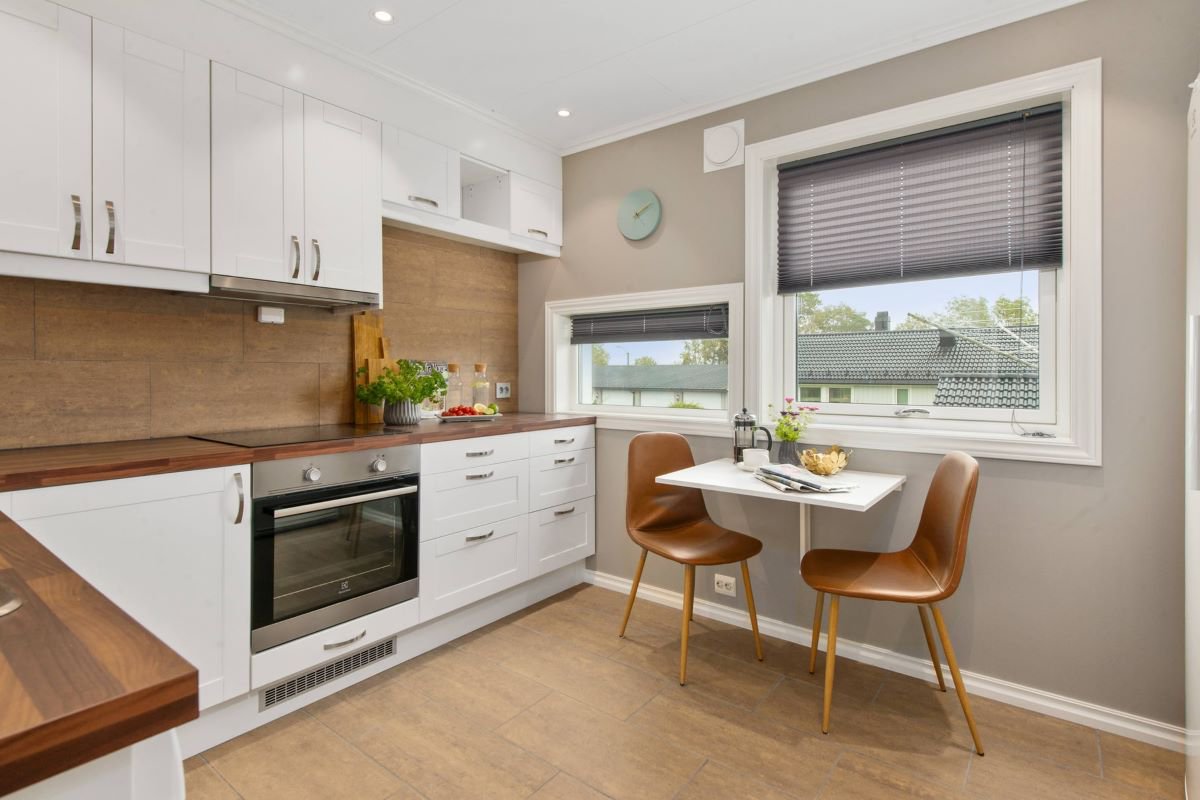 Choosing window treatments in your home is not the easiest thing to do. So do you need window treatments in the kitchen? Yes, but getting kitchen window treatment ideas could be the most challenging.
When choosing the best window treatments for the kitchen, you must consider many design elements such as cabinetry, countertops, tiles, and more. In addition, you also have to think about the functionality and safety of your kitchen window coverings.
Here are 5 questions we think you should ask yourself while you consider kitchen window treatment ideas.
Do I Need Window Treatments At All?
Unlike most rooms in your home, window treatments for kitchens are optional because the kitchen is typically a sparse and bright area. Other spaces such as your bedrooms or the living room could feel a little bare or cold without some sort of window treatment.
In addition, you need privacy in these areas. Unless your neighbor can see into your kitchen, a kitchen window treatment may be unnecessary. Searching for the best window treatments for the kitchen boils down to personal preference.
How Much Natural Light Does The Room Get?
When looking through modern kitchen window treatments, you should consider the amount of natural light in your space. If you only have one small window, stay away from opaque styles. These include bamboo blinds or slatted wood since they prevent light from coming in when closed. Your choices should reflect your understanding of how much light you get and need in your kitchen, the number of windows you have, how easy it is to open/close your chosen treatment, and how the kitchen window treatments will blend into your decor/style.
How Easy Is It To Clean?
We have to clean our kitchen equipment often. In addition, your kitchen window treatment should not be left out. Kitchen counters, walls, windows, and equipment sometimes get oil grime or food odor on them. Therefore, it would be best to choose a style you can clean easily.
Solar shades, shutters, or vinyl blinds can all be good choices for a high-traffic kitchen area. They are all easily cleaned and hold up against the unique challenges of a kitchen.
Where Are The Windows Located?
If you have a window over your stove, it would be a good idea not to use curtains so you can reduce the risk of fire. Windows over a sink might be a good place for kitchen window treatments that can be kept halfway down to minimize their intrusion into the workspace below. The same might be true for windows near busy prep areas so you can keep them safe from all the mess. You might have larger windows in areas away from cabinetry where full-length wood blinds might be a nice touch or even a sliding glass door that might need vertical blinds. The placement of each window may dictate the type of kitchen window covering you choose.
What Matches My Room Decor?
By now, you have most likely narrowed down on your kitchen window treatment ideas. Now, let us talk about aesthetics for the best window treatments for the kitchen. Consider the decor of your room and the style(s) you think would best compliment that decor.
Don't forget about color. Even if your kitchen is mostly white or black and white, you can liven things up with a pop of color and/or introduce a pattern. The days of the lacy white curtains hanging on the kitchen window are long gone. You are only limited by your imagination!
Direct Buy Blinds & Shutters can help you understand all of the options you have at your disposal. You can even get a free color sample to help you make your final decision.
Window treatments for kitchens are a very personal decision. Whatever your style is, there is a kitchen window treatment that will work for you.
Some blogs are written by authorized members of our marketing team for marketing purposes only. Some content may not correctly depict product specifications and may vary depending on the product. For more information, please call our sales office.